School Sports Crew 2018-19
Head of crew:
Competition leaders:
Equipment Organisers:
Media: Libby,
Club Manager -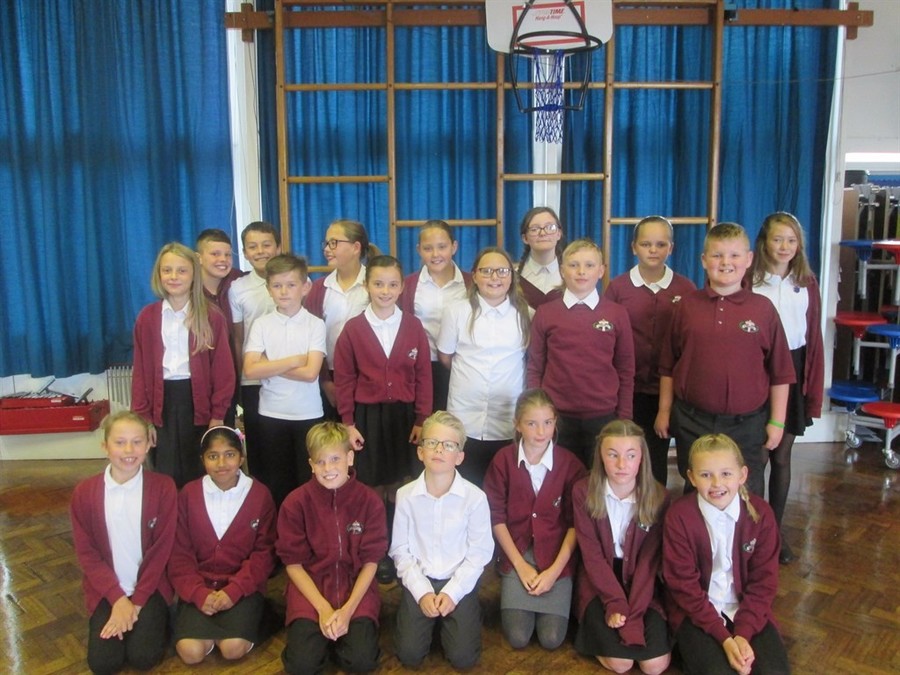 Sports Ambassadors 2019-19
Town End Junior School vision
All pupils to leave primary school physically literate
with the knowledge, skills and motivation necessary
to equip them for a healthy, active lifestyle and
lifelong participation in physical activity and sport.
We aim to do this by..
Increasing participation rates in sporting activities while at the same time contributing to child development by building on and learning more about our key values such as respect, co-operation and kindness for themselves and others.

Developing a broader range of sports and activities offered to pupils.

Improving partnership work on physical education with other schools and other local partners, including increasing confidence, knowledge and skills of all staff in teaching PE and sport.

Extending and developing further opportunities for inter class and across school sport competitions.

Targeting groups of pupils to help improve their physical development and kick start a healthy active lifestyle.

Driving school improvement through raising the profile of school sports values within whole school values.
Our pupils say..
90% of our pupils, said they were more active and took part in more sports activities this year (Feb 2018 pupil questionnaire )

Of which 59%, said they took part in school organised lunchtime or after school sports clubs.
2020-21 Action Plan
In 2020-2021 we aim to continue our 2020 plan and will spend £
In 2019-2020 we spent £17,783.00
Encourage more children to participate safely and confidentially in competitive sport, both intra and inter school, and where needed, provide this as an external resource to compete virtually within our district.

Continue to engage our children to be active throughout the school day, beginning with breakfast club, during lessons, breaktimes, and afterschool clubs.

Improve our club links with local providers to support our children and families to be active in the wider community

Encourage active travel, following Covid19, building this through the school day with the daily mile.

Create a mindfulness zone within the school playground, as a calm safe space following the return to school in September
2019-2020 Action Plan and 2018-19 review
In 2018-19 We spent £17,866.00 to ...
engage all pupils in a range of class lessons, break time and lunchtime activities to achieve 30 minutes of physical activity daily.

develop positive mental healthy lifestyles through embedding work on a positive 'Growth Mindset' attitude to learning.

extend the school day to include breakfast and after school care introducing new sports clubs and providers, as well as offering positive active lifestyle activities and healthy food choices.

encourage pupils to set themselves daily personal challenges to improve their own health and fitness.

broaden community links to create opportunity for pupils to continue to have healthy lifestyles through the holiday periods.
2018-19 Action Plan and 2017-18 review
In 2017-18 We used all the funding of £17,840.00 (plus a further £2555.33 from school budget) to ensure all pupils developed a positive attitude to developing a healthy sustainable lifestyle by..
establishing more sports and health related enrichment clubs.

making stronger connections, building community links with local sports clubs.

strengthening the leadership skills of the Sports Crew, Sports Ambassadors and Media Crew to showcase school participation in community and cluster events organised through strong participation with the 5 Pits Partnership of Cluster Schools and affiliation with the Bolsover School Sports Partnership.

researching and purchasing new resources to develop sports and healthy lifestyles across all aspects of the curriculum.

facilitate more sporting opportunities, through learning new skills to play Golf, Table Tennis, Netball

upskilling staff with inclusive PE skills with 6 weeks of training form Paralympian, Martin Mansell, developing skills in Paralympic sports of Boccia.
2017-18 Action Plan and 2016-17 review
In 2016-17 We used all the funding of £8929 (and a further £3970.00 from school budget) to promote physical literacy by..
achieving the Silver School Games PE Mark, with outstanding pupil involvement in the 2016'Rio Olympics'.

pupils voice choosing to buy new equipment including table tennis tables and setting up a new enrichment club.

pupils participating in new activities including Squash, Tai-Chi, Boccia, and Handball.

up skilling the School Playleader to develop and empower the role of Sports Leaders, ensuring sustainability of School Sports Crew; 4 Gifted and talented Year 6 leaders became Play Makers. Y5 pupils were recruited and trained to be our next Sports Mini Leaders.

monitoring the impact and developing sporting opportunities through newly established breakfast club, which started in September 2016.

showcasing the work of the School Sports Crew including the completion of weekly school sporting blogs on the Sainsbury's school games website.

staff team teaching, working alongside a Sports specialist; while at the same time developing further good practice in Assessing PE and sports participation.

purchasing bike and scooter racks to encourage smart travel to school.
2016-17 Action Plan and 2015-16 review
2015-16 We used all £8684 to improve and promote healthy active lifestyles by...
extending British values and the legacy of 2012 Olympics through lessons and sports clubs.

extending our fresh air fitness programme using the new outdoor gym and circuit stations

reorganising resources onto the playground, audit provision and introduce more new sporting events

monitoring pupil participation involvement in enrichment activities and assess skills learning in lessons.

exploring the use of offsite sports and fitness opportunities to develop pupil's confidence in a range of activities, including the development of walking to and from our Forest School areas.
2015-16 Action plan and 2014-15 review
2014-15 We used the funding to …
Purchase an outdoor, 7 piece gym

Zone the playground to include safe areas for different sports and leisure activities.

Increased the number of pupils achieving the expected 25m qualification in swimming by including swimming for Y3/Y4 pupils

Develop further the role of the playleader and mini leaders to provide more inter-class / inter-team lunchtime competitions and provision for all genders, by introducing new sporting activities.
2013-14 We used the funding to…
Hire specialist qualified PE teachers and qualified lunchtime sports coaches for 38 weeks, providing effective training/planning for all staff to be implemented in 2014-15

Employ a play leader. This role has enhanced sports over the lunchtime break, pupils are targeted and encouraged to join in organised activities.

Buy quality assured material for PE and inclusive sport to supplement the existing provision in the school curriculum.
We strongly believe our children are more active; have participated in 2 hours of good and outstanding PE lessons; active outdoor and adventurous learning, and on and off site Forest Schools sessions linked to all curriculum areas. Active Maths, Spanish and Drama have increased pupils everyday exercise. Pupils have increased participation levels in a range of sporting opportunities throughout the day as a result of our spending in the last 4 years. Visitors comment on how happy, safe and active our pupils are at break times.